POWER BANK BUFFALO-5200MAH (BSMPB09)
POWER BANK BUFFALO-5200MAH (BSMPB09)
Availability: Out of stock
Description
Compatible with all iPhone/Android models
Compatible with all models, so you can use it with confidence.
5,200mAh capacity
iPhone can be recharged fully 3 times.
2A output compatible with tablets and other devices as well as smartphones
2-amp output enables charging of tablet computers (tablets accepting microUSB power supplies (*) iPad/iPad mini).
This mobile battery also works with iPod series models, Walkmans, digital cameras, portable game consoles, and other devices compatible with computer USB power supplies.
Charging of iPad and iPad mini requires a different cable (sold separately).
LED remaining power indicator
BSMPB04 features an LED indicator that lets you check the remaining battery power at a glance.
This eliminates worries about the battery power suddenly running out with no warning.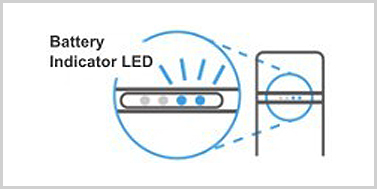 Supports rapid charging of both Apple and Android OS devices
Each port has been optimized for fast charging, enabling rapid recharging of both Apple and Android smartphones
Includes charging Start/Stop switch
BSMPB04 features an ON/OFF switch on the side of the unit.
Switching the unit on only when charging is needed means no waste of battery power.
Features:
5200 mAh Capacity.
1 USB Port
Led Indicator
Pre Charged
Compatible with Smartphones, iPhone, iPad, Tablets
Over Charge And Surge Protection.
Color : Pink
Product policy
---
Reviews