AOC 27 Inch 1ms Black FreeSync Professional 144Hz Gaming LEDMonitor, 1920 x 1080, 50000000:1, 300cd/m2, 16:9, HDMI, VGA, USB, DVI D, Display Port, Tilt, Swivel, Height Adjustment, Built in Speaker | G
AOC 27 Inch 1ms Black FreeSync Professional 144Hz Gaming LEDMonitor, 1920 x 1080, 50000000:1, 300cd/m2, 16:9, HDMI, VGA, USB, DVI D, Display Port, Tilt, Swivel, Height Adjustment, Built in Speaker | G
AOC 27 Inch 1ms Black FreeSync Professional 144Hz Gaming LEDMonitor, 1920 x 1080, 50000000:1, 300cd/m2, 16:9, HDMI, VGA, USB, DVI D, Display Port, Tilt, Swivel, Height Adjustment, Built in Speaker | G
By:
Tharmart
Availability: Out of stock
Description
1920 x 1080 1ms
80,000,000:1
FreeSync
Flicker-free
D-Sub, HDMI, DisplayPort, USB 3.0, USB 2.0
Take your gaming to the next level.
The AOC G2770PF is packed with the latest advances in performance and speed for the smoothest, most immersive gaming experience. It comes with a red accent strip at the bottom which reveals your aggressive gaming spirit. This gaming monitor features AMD FreeSync technology that seamlessly synchronizes the GPU and monitor refresh rates for tearing-free and stutter-free imagery. The ultra fast 1ms response time and 144Hz refresh rates ensure smooth and clear movement in fast motion scenes. With 1920 x 1080 resolution, this 27" monitor delivers the detail and clarity you expect for your games and movies, while the built-in speakers produce dynamic, vibrant sound that match the powerful visuals. When it comes to viewing comfort, this model gets a high score due to the flicker-free technology, and full-motion. The onboard USB ports and full range of inputs (VGA, DVI, HDMI and DisplayPort), round out the impressive offering.
Please Note: FreeSync works at a refresh rate between 35Hz and 144Hz.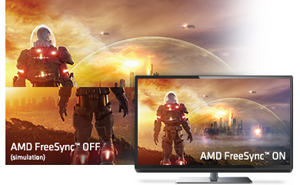 AMD FreeSync Technology
AMD FreeSync enables a seamless synchronization of GPU and monitor refresh rates without sacrificing performance at an affordable price. This technology delivers a gaming experience with zero tearing, zero stuttering and zero input lag while keeping the framerates at maximum level. AMD achieves this by utilizing the industry standard DisplayPort™ Adaptive-Sync to enable dynamic refresh rates. That means the GPU is communicating with the monitor simultaneously to sending a new frame or image, leading to a perfect synchronization between both devices. Gamers only need a compatible AMD Radeon™ graphics card, a FreeSync enabled AMD Catalyst™ driver, plus a supporting gaming monitor and they are equipped to enjoy the smoothest gaming ever experienced.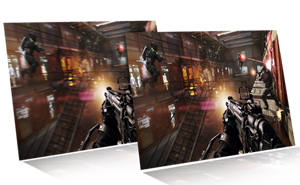 1ms GTG Response Time
A pixel response time of 1ms GTG means speed without the smear for an enhanced gaming experience. Fast-moving action and dramatic transitions will be rendered smoothly without the annoying effects of ghosting. Choose the right path to success, don't let a slow display stop you.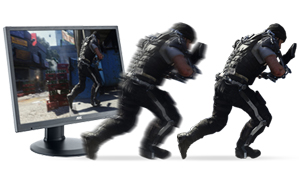 144Hz Refresh Rate
Goodbye motion blur! Equip yourself with twice the frame rate of other monitors and forget enemies that appear to stutter across your screen, making them difficult targets to hit. With a 144Hz frame rate, you see those critical missing images on the screen, showing your foe's movement in ultra smooth motion and eliminating blur and tearing. Games are too good to go unseen.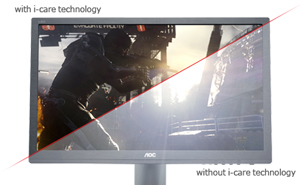 AOC i-care Technology
AOC goes the extra mile for eye comfort with AOC i-Care technology, detecting the intensity of the surrounding light and adjusting monitor brightness accordingly. The on-board sensor measures ambient light around the monitor and automatically adjusts the display brightness for optimum comfort, reducing eye strain and fatigue - perfect for lengthy gaming marathons. Being tired will never be an excuse again.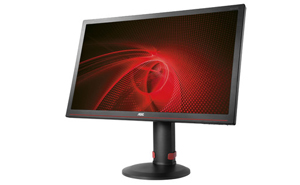 Integrated Speakers
Built-in speakers make it easy to catch up with family, friends and colleagues. For movies, music, games and more, you'll enjoy quality audio without the hassle of connecting external speakers.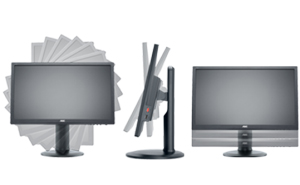 Height and Tilt adjustment
The AOC-4-way adjustable stand allows the user to effortlessly modify the monitor height by 130mm, swivel left and right, tilt the screen angle, and pivot 90º to suit your sight level. Enjoy marathon gaming sessions in ergonomic comfort. Gaming, your way.
Kesington Security Lock
Never worry about leaving your monitor behind again while taking a nap at the LAN Party. The Kensington Lock gives you the freedom and security to fill your batteries for the next match.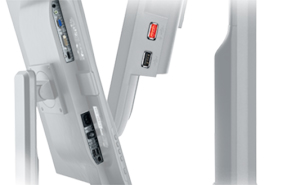 Connectivity Hub
The built-in active and passive USB 3.0 and USB 2.0 hub provide easy-access ports for convenient connection of USB devices.
Multimedia-Ready with HDMI Input - HDMI(High-Definition Multimedia Interface) enables you to connect a secondary device to your monitor with up to 60 Hz. Switch between your PC and console on the fly to experience a huge variety of new possibilities playing all your favorite games, on all your favorite devices.
Display Port - DisplayPort is designed to be the future digital video and sound connection standard, capable of higher performance than older formats.
Dual Link DVI - Dual Link DVI effectively doubles the video bandwidth at a given pixel clock frequency, supporting higher screen refresh rates (120/144Hz) and greater color depths.
Date first available
27, August 2017
Product policy
---
Reviews